In 2018, the Arizona D'backs introduced a humidor to store the balls used in home games. Baseball physicist Alan Nathan published a study predicting a 25% to 50% reduction in homers at Chase Field in The Hardball Times, "A Humidor at Chase Field: What's Up With That?." He refined his predictions at SABR48 in this talk.
Here's summary for all homers in D'back home games the last two years.
81 Home Games
| Year | HR's |
| --- | --- |
| 2017 | 215 |
| 2018 | 171 |
| % Drop | 20% |
The 20% reduction over the previous year speaks to the effectiveness of the humidor. Below is more evidence comparing the D'back's homers at home versus on the road in 2018.
Year
Away
HR's
Home
HR's
2017
98
122
2018
94
80
One might expect the humidor could change the D'backs from a team that got most of its dingers at home to one that hit more on the road. However, there is more to the story. Below is a plot of the same information for the last five years.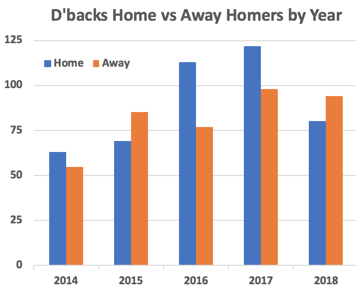 The D'backs hit more on the road than at home in 2015 as well as 2018. So, there is clearly more work to do to completely understand the humidor effect. There will be more to come, but not until after the postseason!
For more information on humidors and their implementation across MLB, see: Some Physics of Humidors at The Hardball Times.