Department of Physics Solvay Photographs
The Society of Physics Students organized the group photographs below. They are intended to mimic this photograph of well-known scientists was taken at the international Solvay Conference in 1927. The photos are linked to a higher resolution jpeg.


October 1927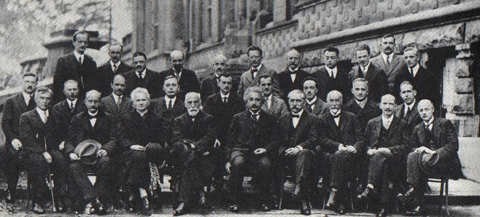 Front row, left to right: I. Langmuir, M. Planck, M. Curie, H. A. Lorentz, A. Einstein, P. Langevin, C. E. Guye, C. T. R. Wilson, O. W. Richardson. Second row, left to right: P. Debye, M. Knudsen, W. L. Bragg, H. A. Kramers, P. A. M. Dirac, A. H. Compton, L. V. de Broglie, M. Born, N. Bohr. Standing, left to right: A. Piccard, E. Henriot, P. Ehrenfest, E. Herzen, T. De Donder, E. Schroedinger, E. Verschaffelt, W. Pauli, W. Heisenberg, R. H. Fowler, L. Brillouin.


May 1989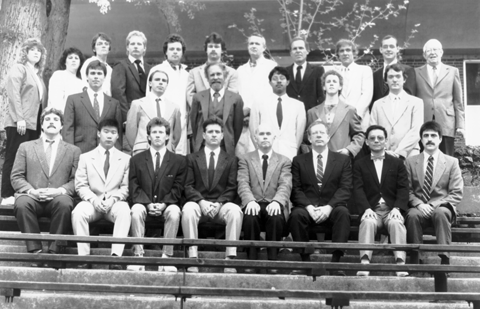 Top row starting at the left: Kris Gottschall, Elaine Eastham, Irene Eggert, Alan Kott, Dennis Murray, Brian Smith, Phil Gash, Mike McGie, John Young, Lou Buchholtz and Gene Mallary.
Middle row: Brian O'Leary, Steve Haderle, Fred Boos, Warna Hettiarachchi, Jon Ellingson and Dave Snider.
Bottom row: Ben Catching, Jung Lee, Steve Byers, Chris Gaffney, Ed Millet, Bob Paulson, Cheuk Chau and David Kagan.


December 1995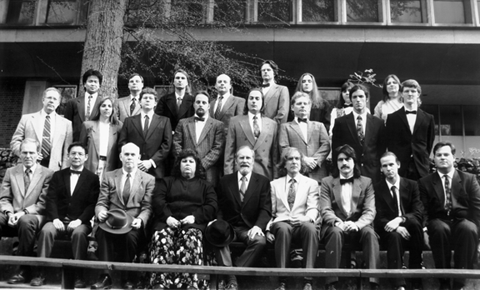 Top row starting at the left: Hideo Imamura, Jerry Thomas, Mike Janus, Terry Cumston, Scott Carter, Sarah Michehl, Colleen Christiansen and Monika Tepfenhart.
Middle row: Bob Paulson, Heather Hamilton, Dan Jacobsen, Tom Nielsen, Brian Willard, Alan Kott, Damon Todd and Marcus Watson.
Bottom row: Mike McGie, Cheuk Chau, Ed Millet, Elaine Eastham, Fred Boos, John Young, David Kagan, Justin Mosier and Dan Lago.


June 2003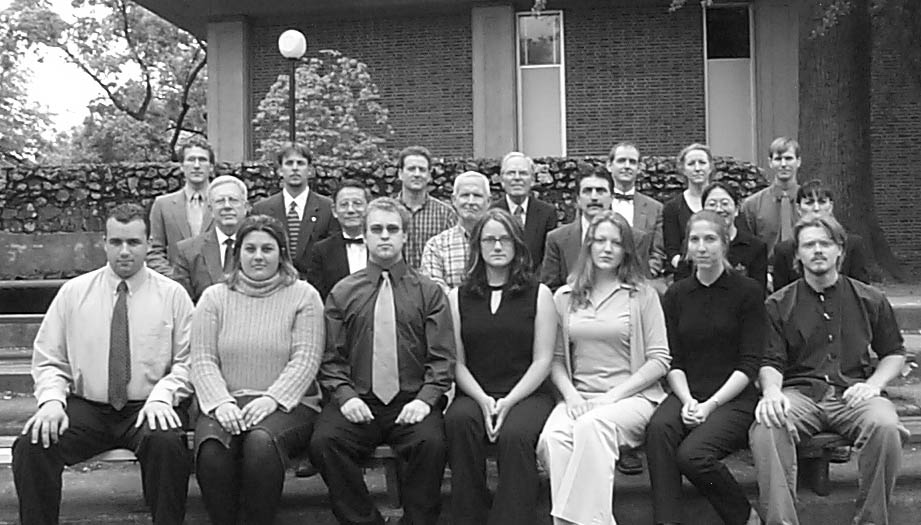 Top row starting at the left: Justin Stimatze, Dave Atkinson, Chris Gaffney, Mike McGie, Lou Buchholtz, Lynda Klein and Joe Piacentine.
Middle row: Bob Paulson, Cheuk Chau, Phil Gash, David Kagan, Xueli Zou and Lisa Washburn.
Bottom row: Kevin Meagher, Eva Kozachenko, Cory Poole, Halli Gaddis, Erin Jordan, Lindsay Rowland and Eric Edlund.


May 2013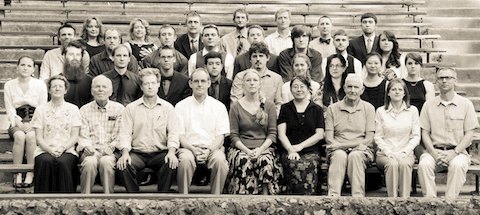 Top row starting at the left: Jennifer Riley, Clare Clifford, David Kagan, Scott Gimbal, Eric Ayars, Jason Stockton, Chris Kaneshiro.
Second row: Pierre Derian, Robert Blanton, Lawrence Lechuga, James Delles, Adam Catching, Evan Ide, Kyle Phillips, and Ashley Shepherd.
Third row: Julia Poniatowski, Tyson Randall, Justin Baran, Brendan Mangano, Erik Navarro, Patrick MacDougall, Carlene Busse, Lena Heffern, Yibo Zhang and Dana Baylis.
Bottom row: Mary Murphy-Waldorf, Mike McGie, Chris Gaffney, Lou Buchholtz, Lynda Klein, Xueli Zou, Phil Gash, Anna Petrova-Mayor and Shane Mayor.